Fresno DUI Information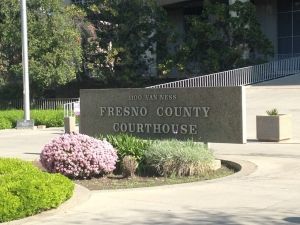 Arrested for DUI in Fresno County
If you've been arrested for a DUI in Fresno County, you should consult a local DUI defense lawyer to understand all your options. Getting a DUI is a difficult and confusing process. You face criminal penalties as well as administrative penalties. It's important to have the best legal DUI representation, to have someone stand by you, to fight for your rights, and protect your interests.
Terry A. Wapner and David E. Jones have experience defending DUI clients in the central valley for over 65 years combined. They are well-known in the legal community as DUI experts among Fresno County judges, lawyers, and prosecutors. Our attorneys are familiar with the local Fresno County police, courthouse officials, prosecutors and judges on your DUI case.
What Happens Next in Fresno County?
After a DUI arrest, you face both administrative and criminal proceedings. These are separate proceedings, and each has serious potential penalties. You only have 10 days to request a DMV hearing. After a DUI arrest, you have a very short time to request an administrative DMV hearing to keep your license from being automatically suspended. If you don't request the hearing within that short window, you lose your right to a hearing. There are important deadlines involved in each DUI case, and an experienced DUI attorney will act fast to make sure you maintain all your options for resolving your case.
If you have a DUI lawyer, they can represent you in front of your DMV hearing and the criminal matter. We have been doing DMV hearings for more than 30 years. These administrative hearings have unique rules and a different process than the criminal proceedings. Wapner Jones, PC is highly experienced in handling both the criminal and administrative process, and will represent you and your case throughout the entire DUI process.
Fresno County Courthouses
In Fresno County, there are 5 misdemeanor courts which are located in the main courthouse. These Departments include 1, 2, 10, 12, and 13. The Fresno County Courthouse is located at:
Fresno County Courthouse, Central Division
Location:
1100 Van Ness Avenue
Fresno, CA 93724
Phone: (559) 457-2000
If your DUI took place in Fresno County, your case will be heard in Department 1, 2, 10, 12 or 13, based on the first letter of your last name. For example, if your last name begins with an "A" you will likely be seen in Department 1, and if you last name begins with "V", Department 13 will likely hear your case.
Form most misdemeanor DUI cases, Mr. Wapner and Mr. Jones can usually appear for you in court, without you having to attend. If the judge allows your lawyer to represent you, this will mean you don't have to take a day off of work or school just to go to court. Getting a DUI can majorly impact your life, there is no need for additional burdens. However, if you work with a public defender, you will have to take time off to appear in court.
Fresno County DUI Penalties
Fresno DUI's operate under California Penal Codes and California Vehicle Codes for DUI penalties. California provides for minimum and maximum sentences and penalties for DUI related offenses. Therefore a judge has some level of flexibility when it comes to handing down your sentence for a DUI. If you are arrested and charged for a first DUI offense, you will generally be subject to the following:
Minimum jail time from 10-20 days, which take place in a work program
Approximate fine of $2,000
From 3 to 9 months attending a DUI school
Possible participation in Alcoholics Anonymous or Narcotics Anonymous
Probation from 3 to 5 years
Possible alcohol restriction during the probationary period
Driver's license suspension for six months by the DMV
Fresno County DUI Attorneys
Remember, an arrest does not have to mean a conviction. You have legal rights, and Wapner Jones, PC. will help you make the best decisions for your future depending on your individual case. If you are arrested for a DUI in Fresno or the surrounding area, contact our offices immediately to discuss your case. We make sure that each client gets the personalized attention they need for the best possible outcome. Schedule your initial consultation today.
Proof of Our Excellence
Trusted & Recommended
- Client

- Client

- Client

- Client

- Client